Description
WELDING EQUIPMENT
OTC|CONSUMABLE PART|DIRECT PLUG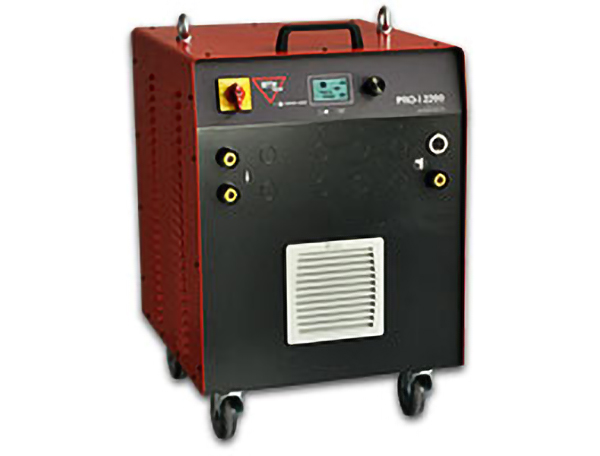 PRO-I 2200
The inverter stud welding unit PRO-I 2200 with microprocessor control convinces through excellent welding quality. Modern inverter technology ensures a very precise control and a high reproducibility of the welding process as well as a very high arc stability – also in cases of short welding times and low welding currents.
The unit offers a high welding power (max. welding diameter 22 mm). Through the innovative cooling concept a high duty-cycle and thus fast welding sequences are assured. Because of the considerably lower weight compared to conventional stud welding units it is ideally suited for mobile use. An integrated electronic wide-range power supply unit allows the operation in a supply area of 320-495 V. Therefore, the PRO-I 2200 can also be used in cases of problematic power supply (e.g. with long extension cables or generators) without difficulties. The robust construction allows the use also in harsh environments.
The PRO-I 2200 is equipped as standard with our new development PowerPackage. PowerPackage is an active and intelligent system for the connection of single welding units PRO-I to a powerful unit. It allows to build up a powerful welding unit with up to 3150 A by simply connecting a PRO-I 2200 with a PRO-I 1300.
The PRO-I 2200 is designed for drawn arc and short cycle stud welding. Welding current and time can be adjusted continuously, of course it is equipped with a constant current regulation. The unit is easily operated by a very robust rotary knob with a built-in push button, all functions and parameters are shown on a big display.
Pre-installed welding programmes facilitate the choice of the right adjustment values for different welding tasks. Additionally, user specific welding programmes can be stored. The modular design of the unit allows the customer specific choice of the equipment features. All optional equipment features can be retrofitted.
The integrated welding parameter monitoring enables the quality control of the finished welds. By default, the parameter sets of the last ten welds are stored. The optional available welding parameter memory allows the storage of 24500 welds and has an USB-interface for data transmission to a PC.
Optionally, the unit can be equipped with a shielding gas module for welding with shielding gas for weld pool backing and with an automatic module to control the automatic stud feeder VBZ and an automatic welding gun.
The PRO-I 2200 can be supplied as multi-gun unit for the operation of two or four stud welding guns with different adjustment values for welding current and welding time. The multi-gun unit automatically detects which gun is used. All gun connections can be equipped with a shielding gas module. Alternatively, for the operation of up to four stud welding guns on one unit the external adapter box PRO-SPLIT is available as accessory.
The trolley version of the PRO-I 2200 with two big, extremely robust castors and pull-out telescopic handle is ideally suited for mobile use on construction sites.