Description
WELDING EQUIPMENT
OTC|CONSUMABLE PART|DIRECT PLUG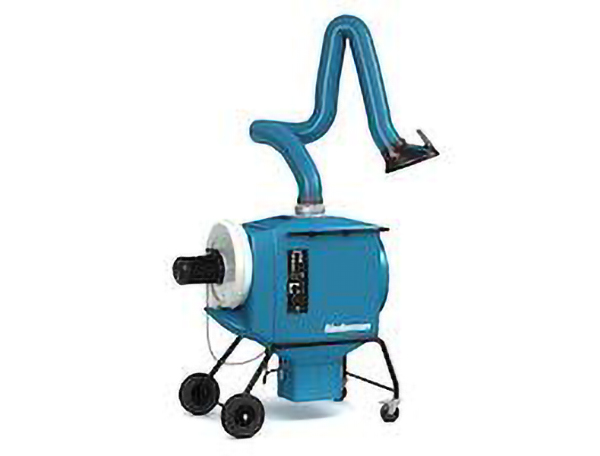 FILTERBOX 12 EQ
Automatically cleaned for medium to heavier dust & fume applications.
The FilterBox 12 eQ is a mobile unit, equipped with a powerful fan for a maximum air flow capacity of 1 200 m3/h (700 CFM). An integrated silencer reduces noise from the fan and outlet air. The unit has an advanced filter control system with automatic mechanical and compressed air cleaning that starts when the air flow is too low. FilterBox 12 eQ also has a pneumatic outlet for pneumatic tools and a single phase power supply output for electric tools. As soon as the tool starts, the fan starts automatically. There is an additional grip included to easily maneuver the unit. Additional protection from harmful particles is provided if a HEPA filter is installed.
For dust applications, the unit is cleaned mechanically. For welding fumes it uses a combination of mechanical and compressed air cleaning.
For welding applications, compressed air cleaning is required.
Note! FilterBox is not for use in environments where combustible dust or gases are present, and it is not for use in filtering combustible dust or gases.
User friendly and superior filter cleaning, mechanical and/or with compressed air for long filter life
Automatic damper preventing dust from leaking out while cleaning
Dust free filter replacement and emptying of dust bin
Third party approval for welding fumes category W3 according to EN 15012-1
Spotlight and fan switch on extractor hood
Technical data

| | |
| --- | --- |
| Airflow (m3/h) | 1200 |
| Certifications | CE |
| Compressed air requirement | DIN ISO 8573-1, class 5/5/4 (7 bar) |
| Dustbin volume (l) | 15 |
| Extraction arm diameter (mm) | 160 |
| Filter Area (m2) | 13 |
| Filter cleaning method | Mechanical |
| Filter efficiency (%) | 99 |
| Installation | Indoor |
| Material | Casing in rotomoulded plastic |
| Noise level (dB(A)) | 74 |
| Arm length (m) | 3 |
| Electric plug | Without |
| Filter cleaning method | Mechanical, Compressed air |
| Filter material | Polyester PW13 |
| Filter type | Cartridge |
| Mounting | Mobile |
| Number of filter elements | 1 |
| No of phases | 3 |
| Power (kW) | 2,2 |
| Weight (kg) | 115 |