Description
WELDING EQUIPMENT
OTC|CONSUMABLE PART|DIRECT PLUG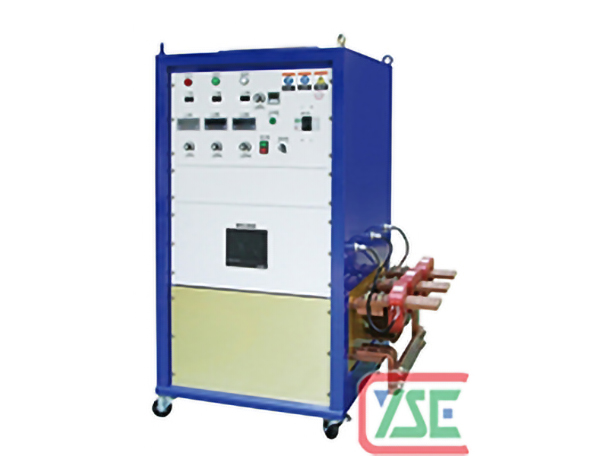 TEMPERATURE TESTING MACHINE FOR DISTRIBUTION BUS
1.Type type: movable box.
 2.The use of field: Indoor.
 3.The surrounding temperature: 0 ~ 40 ℃.
 4.Relative humidity: 80% or less.
 5.Altitude Height: 1000 meters below sea level.
 6.Capacity: 65KVA
 7.Input voltage: 3ψ3W AC220V ± 10%, 50 / 60HZ ± 2%.
 8.Rated current: 180A.
 9.Output voltage: MAX AC0.5-6.3V.
10.Rated current: MAX AC6000A.
11.Function: 3-phase output constant current.
12.Cooling: water-cooled, 12L / min
13.Transformer: H-class insulation.
14.Protection Devices:
1) Silicon Semi-Conductor Overheating Switch
2) Non Fuse Breaker
3) Failure Alarm & Indicator
4) Delayed Startup Switch
15.Voltmeter: 0.5~9.99V, units digit  + 2 decimal, numeric indication
16.Ammeter:  500~6000A, five-digit, numeric indication.  Analog signal DC0-10V Output
17.Equipped with hanging lugs & wheels
18.No fuse breaker: 3ψ225A main power input use.
19.Form of Control Unit: SCR controlled Micro Computer phase power controller, Constant Current Control
20.Dimension: W780mm×D1000mm×H1800mm
21.Weight: About 620 kgs