Description
WELDING EQUIPMENT
LINCOLN|SUBMERGED ARC WELDERS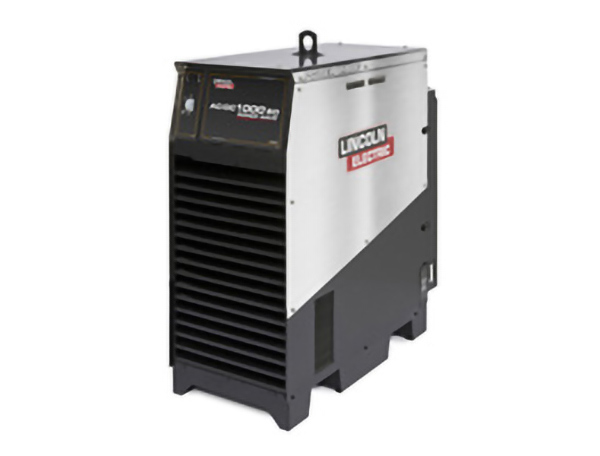 Power Wave® AC/DC 1000SD
Key Features
380 – 575 VAC, 50/60Hz Voltage Input – Offers the ability to be connected anywhere in the world.
Voltage Compensation and Reliable Input Voltage Connection – Provides consistent operation over ± 10% input voltage variation.
No Hardware Reconfiguration Required with Easy Polarity Switching – Eliminates downtime.
Easy to Parallel Machines or Run Multiple Arcs.
3-Phase Voltage Input – Eliminates the imbalance associated with transformer-based AC welding machines.
95% Power Factor Correction – Enables connection of multiple machines on the same plant infrastructure for lower installation costs.
Severe Duty – Can be stored outdoors.
IP23 Rated.
ArcLink®, Ethernet, and DeviceNet™ Communication – Offers remote process monitoring, control and troubleshooting.
True Energy™ – Measures, calculates and displays instantaneous energy in the weld for critical heat input calculations.
CheckPoint™ and Production Monitoring™ 2.2 – Use your server or our cloud-based server to view and analyze your welding data on almost any device – desktop, laptop, iPhone® or iPad®, Blackberry® and others. Track equipment usage, store weld data, configure fault limits and more.
Software Based Controls – Can be upgraded as new features become available.
iARC™ Digital Control – 90 times faster than the previous generation, delivering a responsive arc.
Each Unit is – Factory burn-in tested at maximum output for 2 hours to ensure quality and reliability.
Process
DC+ Submerged Arc
DC- Submerged Arc
Balanced AC Submerged Arc
Variable AC Submerged Arc